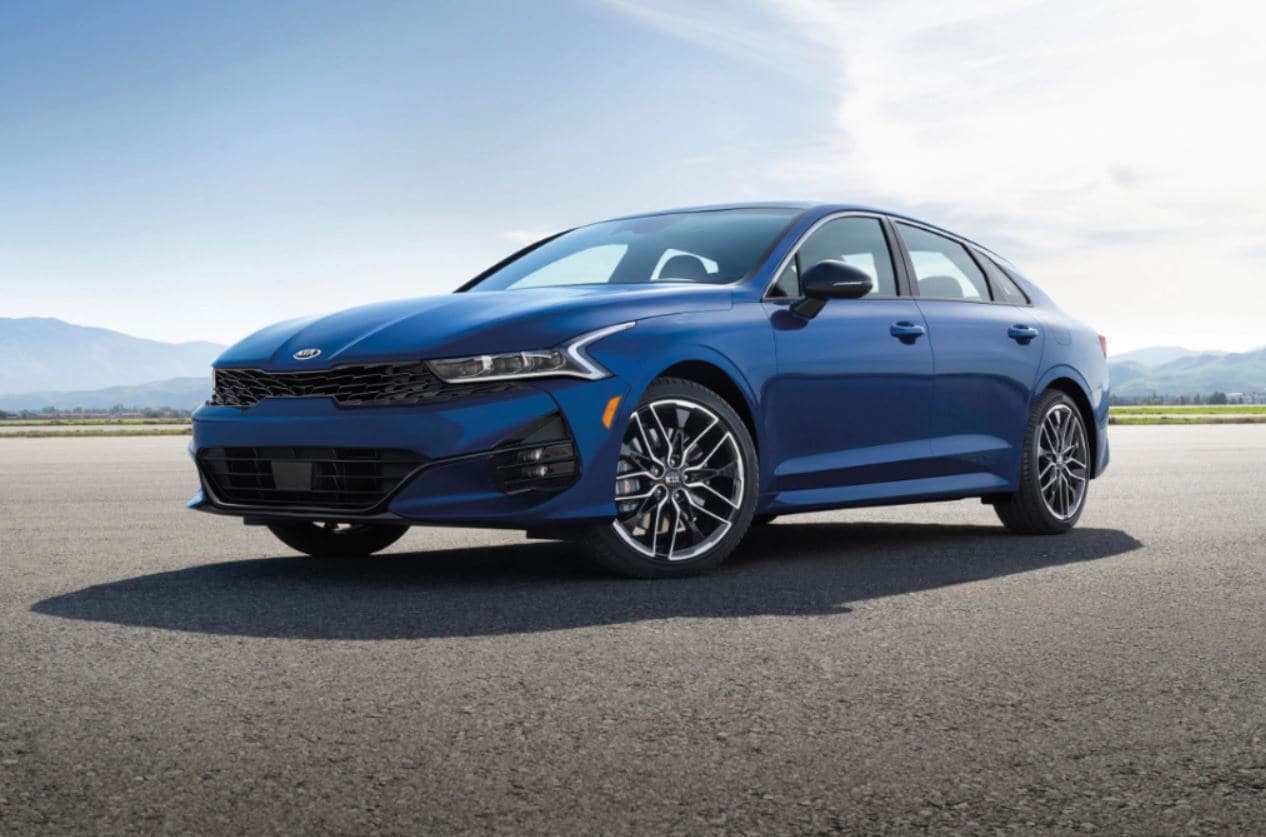 2022 KIA K5 Ready to Pounce at Napleton KIA Dealerships
Napleton Kia would like to introduce you to the new 2022 Kia K5! The latest offering from Kia, it appears nearly ten years after the Kia brand shook up the mid-size market. With the new 2022 Kia K5, the company shows they are prepared to do it all over again.
Introduced by Kia Motors at a July 2020 news conference, the new K5 will replace the Kia Optima. The new K5 utilizes the brand's N3 platform, which is now longer, lower and wider than before. Along the way, it takes on a Stinger-like appearance, paying tribute to its bigger, more powerful brother.
Highlights of the new K5 include a powerful, bold new appearance with Kia Stinger-influenced design DNA. There is a new turbocharged-engine lineup that is mated to a segment-exclusive 8-speed dual-clutch transmission and all-wheel-drive option to deliver peace of mind to the driver on challenging roads or during inclement weather conditions.
Turbocharged 1.6-liter Engine
180 Horsepower
195 lb-ft of torque
Continuously Variable Valve Duration for boost in power and fuel economy
Optional 2.5-liter gas and multi-port injection engine
290 horsepower
311 lb-ft of torque
8-speed dual-clutch transmission
5-Passenger Seating
Innovative "Heartbeat" daylight running lights
All-wheel-drive available
Segment-exclusive dual-clutch eight-speed automatic transmission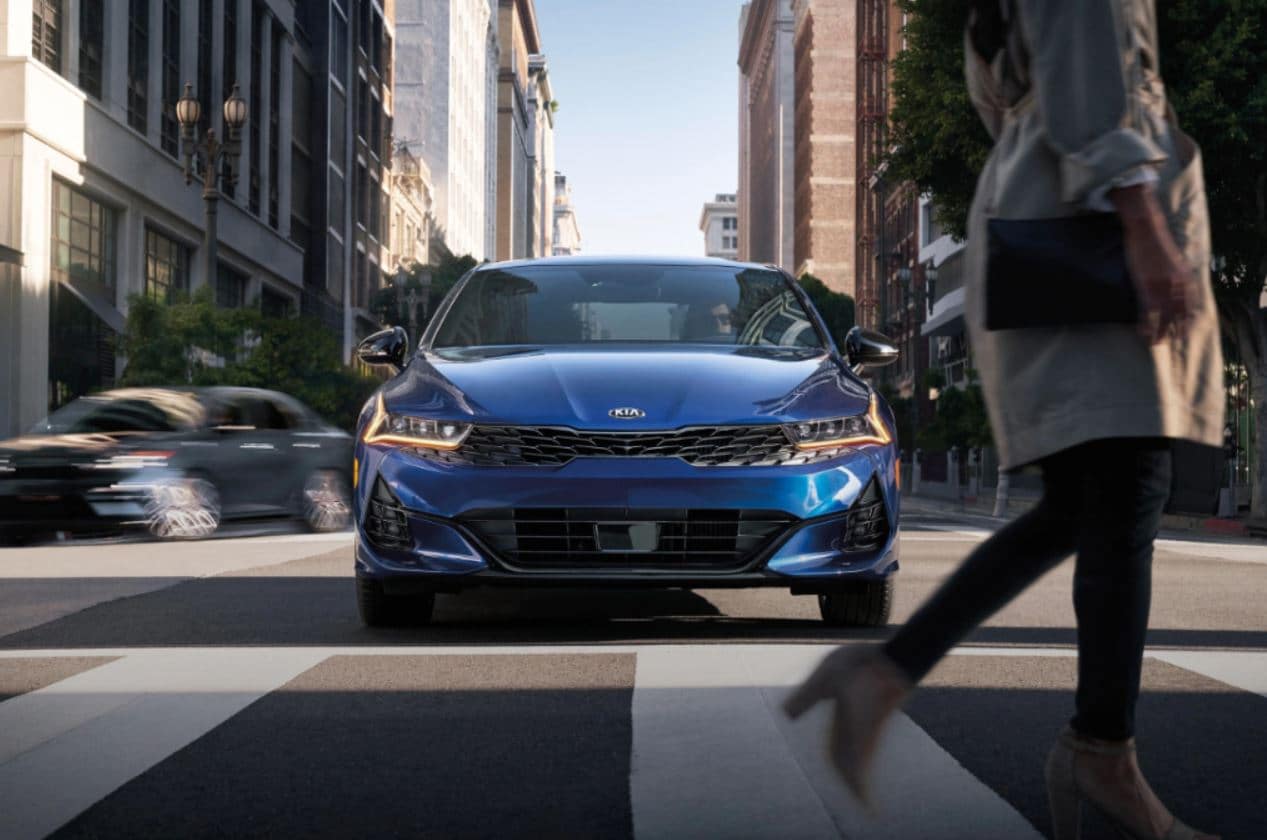 KIA K5 - All Turbo, All the Time
The new Kia K5 allows buyers to select from two turbocharged four-cylinder engines. The base engine is no slouch. It's a 1.6-liter Gas Direct Injection (GDI) four-cylinder engine tuned to produce 180 horsepower and 195 lb-ft of torque. This engine adopts Continuously Variable Valve Duration (CVVD), which varies the valve timing that, in turn, causes a performance boost and improves fuel efficiency at the same time.
The second powerplant on tap is Kia's Turbocharged 2.5-liter GDI/Multi-Port Injected four-cylinder engine. New for 2021, it produces 290 horsepower and 311 lb-ft of torque. It is mated to a new 8-speed dual-clutch transmission that allows it to go from 0-60 in 5.8 seconds.
The new Kia K5 from Napleton River Oaks Kia will be available with an optional all-wheel-drive (AWD) package, which allows you to attack messy weather and road conditions as they pop up, especially during winter. Torque sensors read the road and, as a result of any wheel slippage, can send more torque to the appropriate wheels that already have sufficient grip. Otherwise, K5 AWD system is front wheel-biased and utilizes electro-hydraulic coupling for faster AWD and quicker response. This new AWD system is available.
Kia K5 Exterior

The new Kia K5 reveals an entirely new take on the trademark Tiger Face grille. Designed with an aggressive teeth-forward appearance, it features a shark skin-inspired mesh design on the front grille. Innovative new "heartbeat" daytime running lights and taillights mimic the appearance of a hospital's heart monitor. It's the first time we have observed such a design on any vehicle. At the rear, there are available LED dashes that span the width of the rear deck.
Other features on the new Kia K5 include a new fastback roofline silhouette, a bolder exterior and new details throughout. It is now slightly larger than the 2020 Kia Optima, which it replaces. There is a significantly sportier K5 GT and for those who appreciate the sportier trim but not the added horsepower, there is the K5 GT-Line.
Kia K5 - Safety & Technology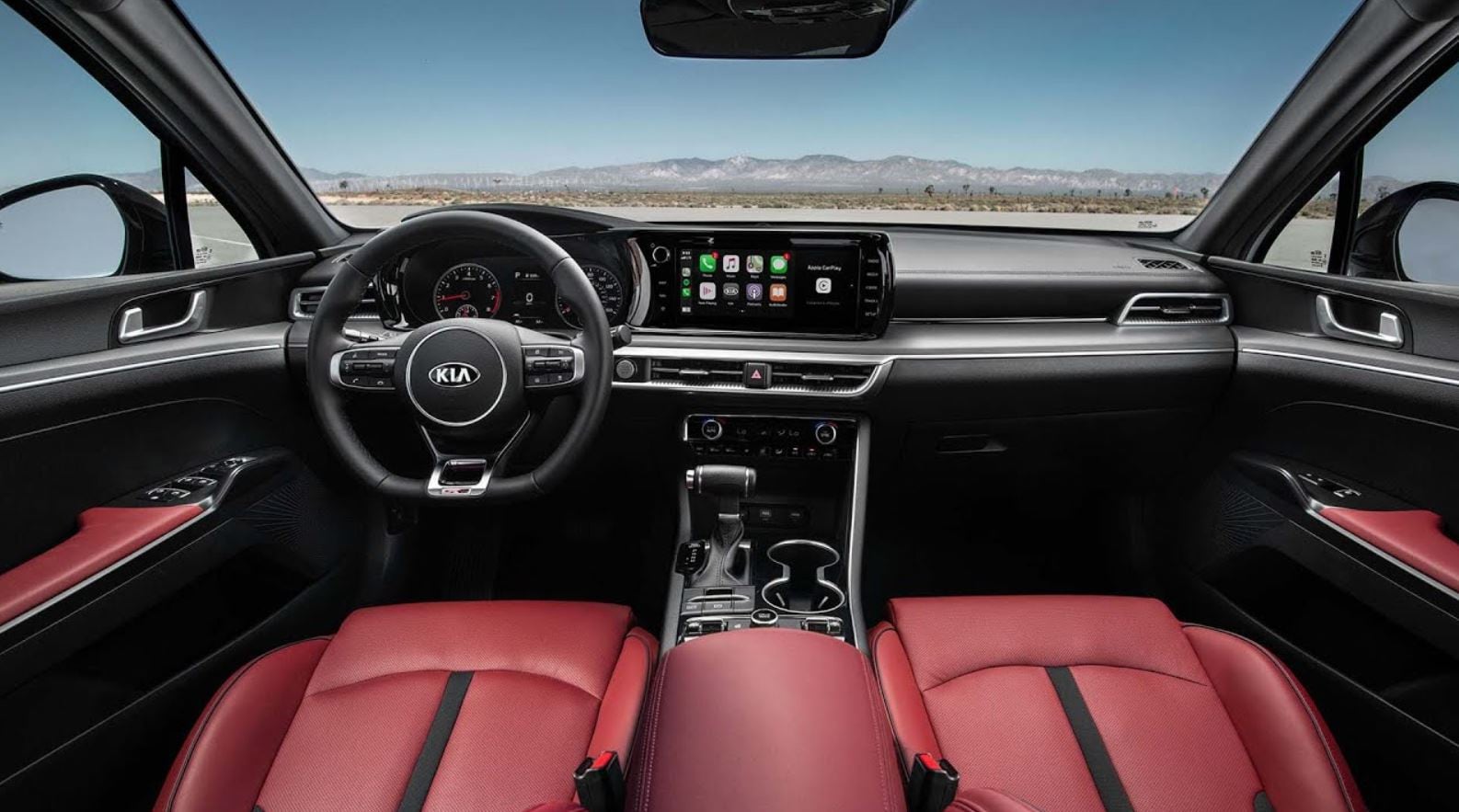 The new Kia K5 is loaded with Technology and safety features, too. Whether it's driver assists, ranging from now-standard Forward Collision Avoidance and automatic emergency braking, to a Rear Occupant Alert, or Lane-Follow Assist and available blind-spot minitor and rear cross-traffic alert, all the bits are here. There's also a drive mode selector to allow drivers the ability to change up their ride quality from Normal, Smart, Sport, Sport+ and Custom modes, it's all here.
But Kia's new K5 is not finished yet. Not by a longshot! It also features custom interiors with genuine wood and leather trim and an available 12-Speaker Bose premium audio system. The system is operated by either an 8-inch or 10.25-inch touchscreen display and also controls a wireless Qi fast charger, wireless Android Auto and wireless Apple CarPlay.
Kia K5 Warranty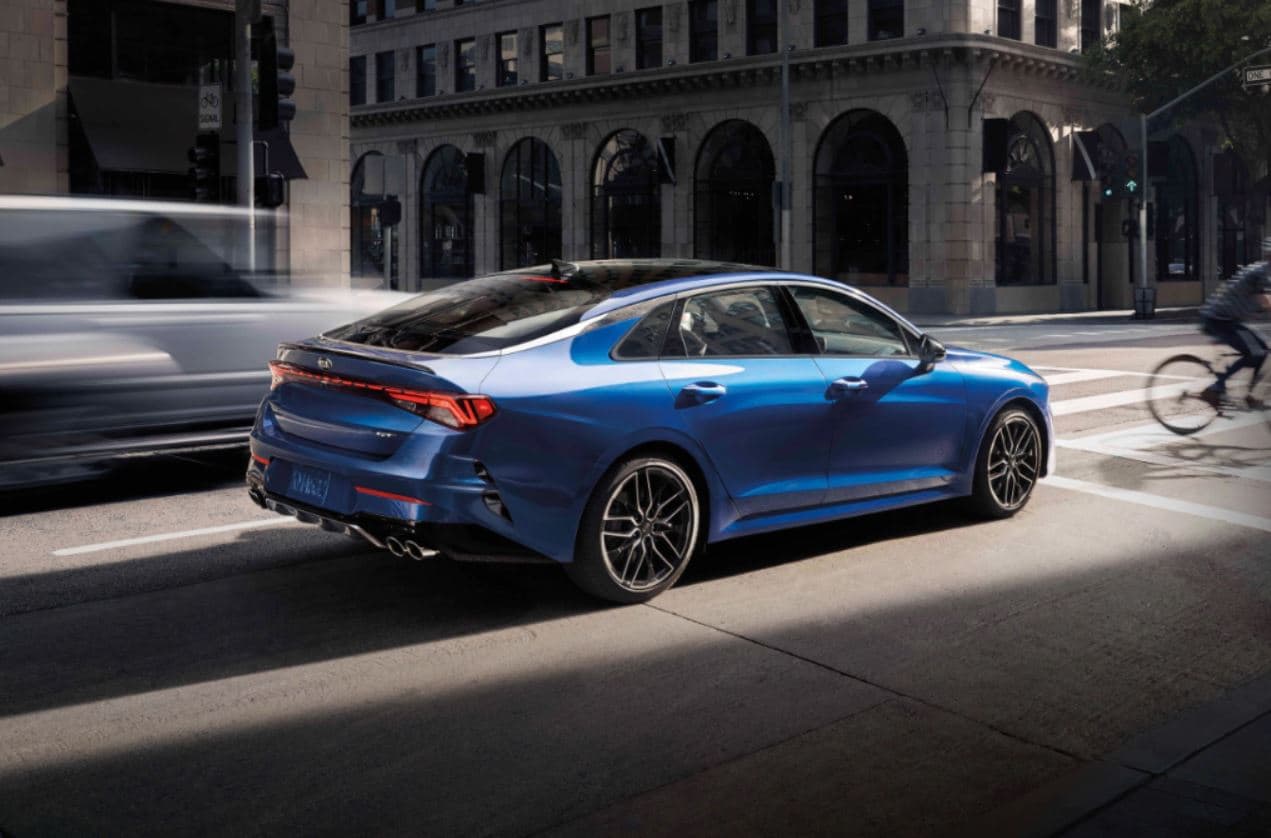 The Kia K5 includes the longest, most comprehensive warranty in the business. That includes a limited warranty that covers five years or 60,000 miles. The powertrain warranty is in effect for 10 years or 100,000 miles, whichever comes first.

Kia K5 Available at Napleton River Oaks Kia
The exciting new Kia K5 sedan officially went on sale at Napleton Kia around November of 2020. But you never know, some early models may show up from time-to-time. Be the first on your block! In the meantime, continue to check our inventory. For more information and to order your new Kia K5, please contact the Napleton Kia Dealership near you, today.