Looking to Get Your Brakes Serviced?
Brake Repair Services
All vehicles serviced at River Oaks Kia Service Center have their brakes inspected to make sure that the brakes are in good condition and are safe. One of the most popular vehicle maintenance jobs to do is brake repair services. Brake pads, rotors, and other parts do wear down over time, especially the pads. We perform brake repair services quickly and affordably. This includes brake pad replacement, rotor replacement, brake line replacement, master cylinder replacement, "bleeding" the brakes, and other brake part replacements.
Why Do Brakes Need Maintenance and How Do They Work?
As you compress the brake pedal, fluid pushes through the brake hose to compress the brake caliper piston, which presses the pad against the rotor. The friction between the pad and rotor slows your car down, but it also causes wear over time, in particular on the brake pads. So, it is a good practice to regularly have a service technician check the pads, rotors, fluid, and other brake components to ensure your brakes are in working order.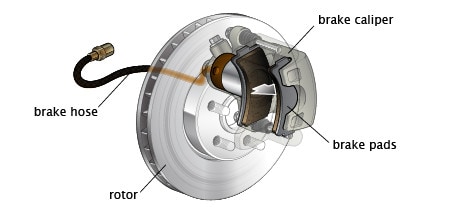 There are three very common Brake Maintenance Services to Maintain Your Car's Braking System:
Brake Fluid Checks
Each time you service your vehicle at River Oaks Kia Service Center, we will check the brake fluid and top it off. Brake fluid is part of the hydraulic braking system. Brake fluid drives a piston forcing your vehicle's brake pads to clamp onto the rotors, which slows your vehicle down.
Brake Pad Replacement
Brake pads take on the most wear as they are compressed onto the brake rotors to stop the car. Brake pads should be inspected and replaced if they are worn. Failing to replace worn brake pads can cause serious damage to brake rotors. Brake pad replacement service costs are relatively low when compared to replacement of the brake rotors. It is important to ensure your brake pads are not too worn, so your brakes work well. You may hear a squeaking sound when your vehicles brake pads are ready to be replaced. 
Brake Rotor Replacement
If you do not regularly service your brake pads, brake rotor replacement will be needed much more often, but normally new vehicles will require brake rotor replacement a few times during the life of the vehicle anyway. Brake rotor discs experience substantial wear over time as pads press against them to stop your car. If you are experiencing a grinding noise from your brakes, you likely need immediate rotor service. 
Schedule Brake Repair Services
Our team at River Oaks Kia Service Center performs brake maintenance and repair every day. Give us a call to discuss your car's needs and to get your brakes serviced at our brake shop in Calumet City, Illinois, just south of Chicago.
When Should I Replace My Brakes?
Brake repair is one of the most popular routine maintenance services that we perform and it's crucial for both safety and cost to regularly get your brakes checked. Brake pads wear down gradually over time, so it can be difficult sometimes to tell if brake pads need to be replaced. It can also cost extra if you let your pads wear too much as that might also damage the rotors.
Here are some key indicators that you need brake service. Our Kia Service Center also inspects brakes at every appointment. 
High-Pitched Squeal:
Most brake pads actually have a built-in wear indicator, which is a high-pitched squeal when your brake pads get worn to a certain point.
Grinding Noises:
After the pad is almost completely worn, there will likely be a grinding noise when you brake. Your brakes should be inspected and repaired ASAP as the pad is likely almost completely worn and the metal-on-metal noise is likely the rotors being damaged by the backing plate of the brake pads. It's best not to let your brakes get to this point and you should seek immediate repair help if they are.
Brake Pad Thickness:
Depending on the vehicle, brake pads should be replaced at 3-5 mm of thickness. 
Pulling:
When you brake and it feels like your car pulls to one side, this could be caused by your brake pads being worn at different levels, a stuck brake caliper, collapsed brake hose, dirty brake fluid, or other issues. 
Vibration/Pulsation:
When you brake and the pedal feels like it is vibrating or pulsing, this can be caused by uneven / worn rotors.
Pedal Responsiveness:
If your brake pedal is softer and not as responsive as it was previously, this could indicate an issue with a brake fluid system. 
Service Hours
Monday - Thursday

7:30am - 6:00pm

Friday

7:30am - 5:00pm

Saturday

8:00am - 4:00pm

Sunday

Closed