Kia Sportage for Sale at River Oaks Kia
Here at River Oaks Kia, we are proud to announce the arrival of the new Kia Sportage for sale. This SUV features a powerful yet fuel-efficient 187 horsepower 2.5-liter Inline 4-cylinder engine with 178 lb.-ft. of torque. The new Kia Sportage Crossover also comes standard with the best-in-class cargo room and the best-in-class rear seat legroom. Completed with two 12.3-inch display screens, the new Kia Sportage is a fantastic SUV. Regardless if you're driving through rain, sleet, or snow, you can also count on the new Sportage. See and drive the new Kia Sportage Crossover SUV for sale at Napleton's River Oaks Kia located at
1951 River Oaks Dr. Calumet City, IL 60409
.
New Kia Sportage: Buy or Lease Today
To find a great deal on a new Kia Sportage, visit River Oaks Kia. Hurry in and find:

Kia Sportage Deals

Kia Sportage Lease Specials

Kia Sportage Financing

Massive Savings
Huge Selection

All Kia Sportage Trims On Sale 
Buy or Lease new Kia Sportage 100% Online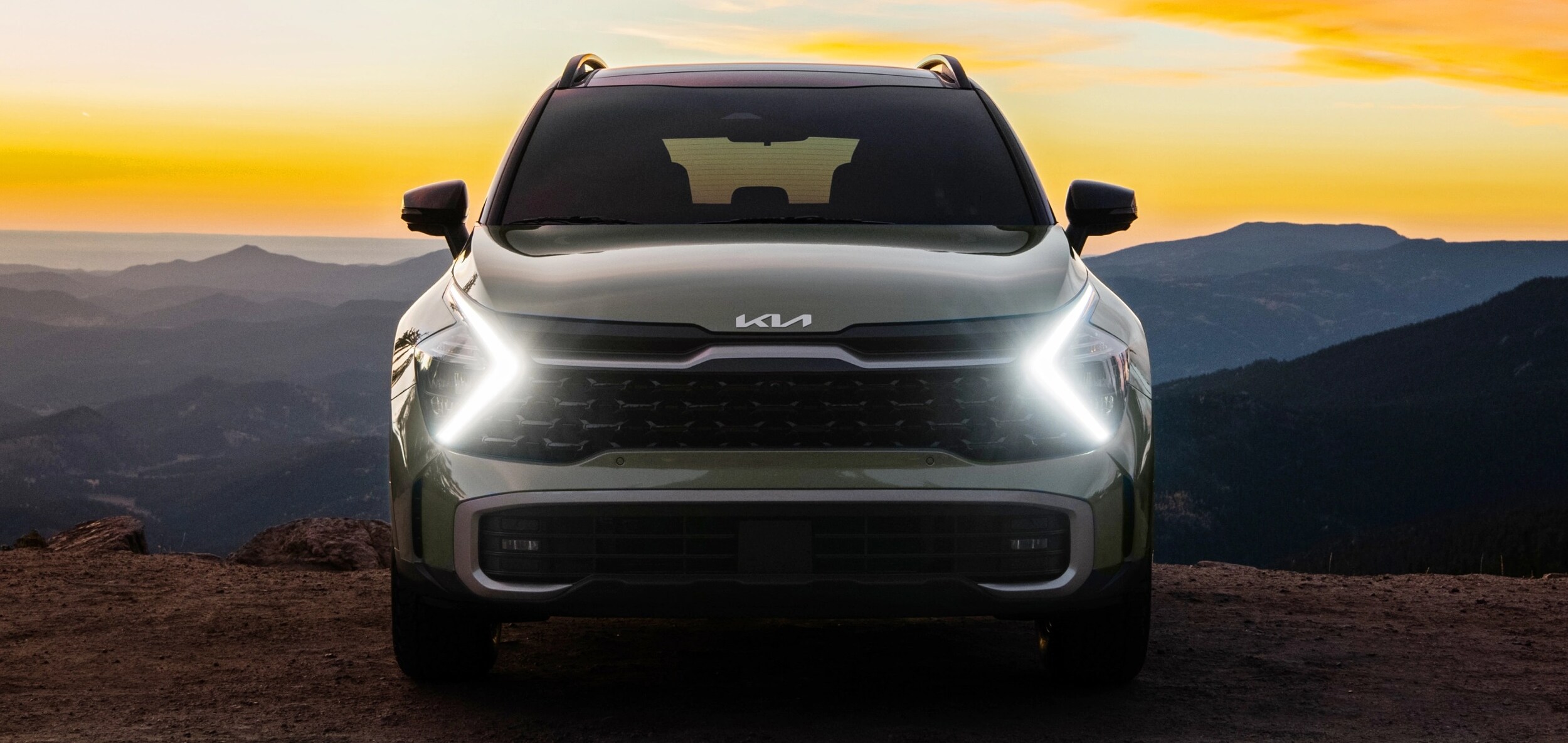 Reserve Kia Sportage Online & Get Today's Price
* Indicates a required field
New Kia Sportage: Redesigned
The Sportage features a new modern look incorporating Kia's "Opposites United" design philosophy. This language begins with a new modified version of Kia's "Tiger Nose" grille. The new looks continue with a pair of "boomerang-shaped" daylight running lights located directly above the Sportage's unique headlight placement.
There's a new side profile that is crisply shaped and detailed throughout. The result is a look that is sporty and luxurious at the same time. Talk about checking both boxes! New angular fenders provide a lively presence. Also new is an available black-accented roof which brings a new sporty look to the Sportage. Chrome trim adds attitude as it climbs its way up to the Sportage's D-pillars.
When it was introduced, the first-generation Kia Sportage was considered a minor member of the subcompact class of crossovers. Sporting a new longer overall length and a larger wheelbase, It boasts best-in-class rear legroom, which they will love for the long haul.
Kia Sportage Exterior
The new Sportage is now 7.1 inches longer than the previous model. It rides on the new Kia N3 platform shared with its Kia Sorento sibling. Between the wheels, the Sportage has received an additional 3.4 inches. This results in a cabin with more rear-seat legroom and a more spacious interior.  
There are a wide variety of trim levels, too. The Sportage begins with the LX level and moves up to the EX, SX and SX-Prestige trim lines. Off-road fans can take advantage of the X-Line, X-Pro and X-Pro Prestige models. X-Pro models include an extra 1.5 inches of ground clearance and utilize a multiple terrain all-wheel drive system with BFGoodrich all-terrain tires. Now, the only question you need to worry about is how far off-road you want to go in your Sportage.
Kia Sportage Interior: An Inside Inspired By Outside

The interior of the Sportage takes its inspiration from the look of high-end outdoor furniture. It features a futuristic cabin with a curved glass display made of two 12.3-inch color displays that meld together under a single glass panel in a side-by-side fashion. In this new model, drivers can use a digital touchpad control to adjust the audio and climate systems in the Sportage. It helps shorten a driver's reach.
While the base Sportage LX delivers with fabric seats, Sportage EX and higher models use synthetic leather for seat upholstery. Angled climate control ventilation is placed throughout the interior and especially on the curved dashboard display. It's the most radical example of advanced Kia design yet. The Kia Sportage interior also comes with wireless phone charging and seat side USB-C charging ports for rear passengers. Not only does the interior look and feel high-end, it also has high-end technology that makes every car ride more enjoyable.
Remember how we told you the Kia Sportage is the largest ever? The best part of this new Sportage model is its class-leading rear-seat legroom. There you will find 41.3 inches of legroom and a best-in-class rear cargo capacity of 39.6 cubic feet
River Oaks Kia Sportage Performance Features

What Motivates The New Kia Sportage
A Kia 2.5-liter inline-4 cylinder engine powers the new Sportage. It delivers 187 horsepower and 178 lb-ft of torque in a standard front-wheel drive configuration. Utilizing a new, more fuel-efficient design, the engine matches up to an 8-speed automatic transmission for fast, reliable shifts. An All-Wheel Drive (AWD) powertrain with an electro-hydraulic coupling system can be ordered for those who drive in inclement weather or want to take the Sportage off-road. Torque is variable, thanks to sensors that read road conditions on the fly and then send available torque to the front or rear wheels, as necessary.
The gasoline-powered Sportage is not your only choice. The Kia Sportage Hybrid model is available for fans of this innovative technology. Power derives from a 1.6-liter turbocharged inline-4 engine with a 44.2-kW electric motor for 227 horsepower and 258 lb-ft of torque.
The Kia Sportage Plug-in Electric Hybrid (PHEV) is also available. Powered by a similar 1.6-liter turbo engine, it uses a larger 66.9-kW electric motor and 13.8-kWh battery. Combined, it makes 261 horsepower and up to 84 MPGe combined (electric).
River Oaks Kia Sportage Safety Features

Safety is a priority on the Kia Sportage. It is equipped with Kia Drive Wise which includes features like 360 Degree Surround View Monitor, Blind-Spot View Monitor, Standard Auto Emergency Braking Technology, Smart Cruise Control with Stop and Go, Safe Exit Warning, and more. The new Kia Sportage has been a top safety pick for many years. Drive a vehicle that keeps you and your passengers safe, drive a Kia Sportage for sale near you!
For drivers seeking more information about the new Kia Sportage pricing, specs, features, reviews, and trim levels, call or fill out the form on this page. As mentioned before, the new Sportage Kia Crossover is available. Schedule a test drive online and get an exclusive Kia Sportage lease deal or special. Don't wait. Best offers going fast.

Kia Sportage Specs & Features
 
 Engine 
 2.5-Liter I-4 Engine 
 Horsepower 
 187 horsepower 
 Transmission 
 8-Speed Automatic Transmission
 Front-Wheel-Drive
 Standard
 Rear-Wheel-Drive
 Available
 Exterior Dimensions 
 
 Length
 183.5-inches
 Wheelbase
 108.5-inches
 Interior Dimensions 
 
 Rear Legroom 
 41.3-inches
 Cargo Volume 
 39.6 cu.-ft.
 Technology
 
 Touchscreen 
 12.3-inch display
 Digital Instrument Cluster
 12.3-inches
 Android Auto 
 Standard 
 Apple CarPlay
 Standard
 360-degree Surround-View Monitor with 3D view
 Available 
 Harman Kardon 11 premium audiosystem
 Available
 Wireless charging pad
 Available
 Wi-Fi Hotspot
 Available
Kia Sportage Frequently Asked Questions

Yes, new Kia Sportage deals are offered on a monthly basis. The best way to find new Kia Sportage deals, special offers, and incentives, is by visiting our inventory page and looking under Manufacturer Offers. Find new Kia Sportage deals online. 

Yes. To start a new Kia Sportage lease, contact the River Oaks Kia Finance department. Our team can help you build and price a new Kia Sportage lease. We can also help you schedule a test drive drive.

Kia Sportage prices range from base model to high-end models.
The new Kia Sportage goes great lengths to please everyone:
Class-leading rear legroom:41.3-inches of room
Best-in-Class Rear Cargo Capacity:39.6 cu.-ft. of space
Overall length:183.5-inches
Overall wheelbase:108.5-inches
Yes. AWD is an available feature on the Kia Sportage. AWD-equipped models gain 1.5 inches in ground clearance over outgoing Sportage.

Yes. There's no shortage of standard Advanced Driver Assistance Systems. Even at the base level, drivers will appreciate the safety and convenience of driving a new Kia Sportage. 

The new 2023 Kia Sportage is larger than the 2022 Kia Sportage in several dimensions, with the best-in-class rear seat legroom, and rear cargo capacity. The new 2023 Kia Sportage has more power than the 2022 Kia Sportage via new 2..5-liter I-4 engine with new 8-speed automatic transmission and targeted 187 hp. The new 2023 Kia Sportage also comes available with dual panoramic curved 12.3-inch display screens.  
Fortunately, the cost of owning a new Kia Sportage is extremely affordable. To maintain or service your new Kia Sportage, visit River Oaks Kia service center.

The new Kia Sportage Crossover SUV can hold up to five passengers. 

The Kia Sportage trim lineup includes  LX, EX, X-Line AWD, SX, SX Prestige, Sportage X-Pro, and Sportage X-Pro Prestige. The Kia  Sportage X-Pro Prestige is the halo model.