Genuine Kia Car Batteries
Napleton River Oaks Kia proudly uses Genuine Kia Batteries! Genuine Kia Car Batteries provide the right combination of reserve capacity and cold crank amps approved by Kia engineers to meet Kia's high reserve capacity requirements for a long battery life.
Genuine Kia Batteries with Installation start at 189.99!
Free Car Battery Test!
When you service your vehicle at Napleton River Oaks KIa we will test your battery to ensure that it is in good condition. Contact us today to schedule your visit!
(888) 869-3305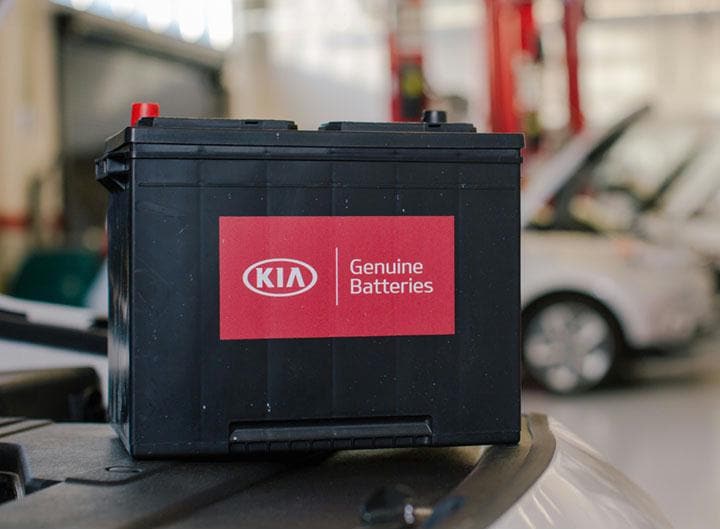 Benefits of a Genuine Kia Car Battery:
60-month limited warranty
18-month free replacement
42-month prorated covrage
Built to top industry standards
High vibration resistance
State-of-the-art design
Maintenance-free under normal operating conditions
Quicker recharge capability due to balanced cold crank amps & reserve capacity
Extended battery life due to reduced corrosion
Improved heavy-duty lugs on the positive and negative plates
Service Hours
Monday - Thursday

7:30am - 6:00pm

Friday

7:30am - 5:00pm

Saturday

8:00am - 4:00pm

Sunday

Closed
Car Battery FAQs
When does a battery need to be replaced and what are some warning signs?
Some signs that you may need a new car battery are a recent "jump-start", trouble cranking & starting up, corrosion on the battery terminals, or a pause before the engine turns over in the morning. 
How long do car batteries last?
A standard car battery, also called a wet cell lead-acid car battery, usually lasts between 3 and 5 years. Depending on how frequently you use your vehicle and what the weather is like in your area can also impact battery life. 
How can I tell if a battery is good or bad?
We offer complimentary battery testing at our Kia Service Center in Calumet City, IL. Batteries are given a load test and examined using an electronic battery tester to determine if they are in good condition. 
How should I dispose of my old car battery?
Conventional car batteries contain both lead and acid, which are both toxic chemicals. Car batteries should not be thrown out in the trash. It is recommended to recycle the old car battery at your retailer or service shop. Our Kia Service Center accepts old car batteries for recycling. 
How much does a car battery cost?
At Napleton River Oaks Kia, our service center installs Genuine Kia Car Batteries starting at $189.99. This includes both parts and labor. Car battery prices will vary depending on the vehicle type, cold cranking ability, reserve capacity, warranty, and the type of battery.
Are car batteries dangerous?
Car batteries can definitely be dangerous. They contain acid and lead. Also, when charging, car batteries release hydrogen gas. Caution should always be exercised whenever attempting to change or jump-starting a dead battery for this reason. If you do not know what you're doing, please give us a call for advice or bring your car into our Kia Service Center just south of Chicago.